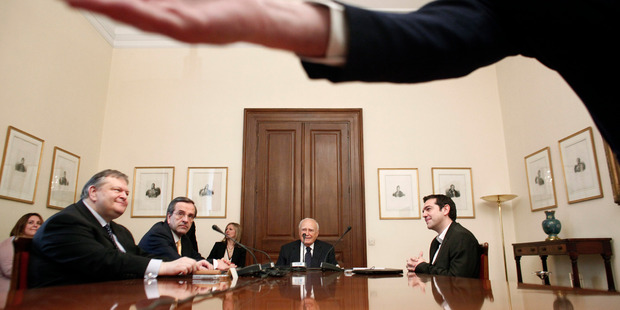 After a week of intense negotiations, it seems that the differences over the terms of the international bailout for Greece are too vast for the nation's political parties to bridge and fresh elections seem increasingly likely.
On Sunday, leaders of the country's three biggest parties met at the presidential mansion but failed again to find agreement, increasing the chances of Greece exiting from the euro.
Such an exit would in turn open the door for other euro-zone members struggling to lower gaping budget deficits through harsh spending cuts to do the same. That risk could lift borrowing costs of countries including Spain, Portugal and Italy, as investors demand a higher risk premium.
In Europe the week holds plenty of meetings where the Greek stalemate will be the key topic of discussion. Euro zone finance ministers meet on Monday in Brussels, followed by a meeting of all European Union finance ministers the next day.
On Wednesday, German Chancellor Angela Merkel is set to meet Nicolas Sarkozy's successor, Francois Hollande.
Europe's Stoxx 600 Index dropped 0.4 per cent in the past five days, sliding for a second week, as did the euro. For the week, the euro fell 1.3 per cent US$1.2917 and shed 1.2 per cent to 103.26 yen.
"Investors are starting to ask what happens after a country leaves the euro area, which was supposed to have been a rock-solid bloc," Henrik Drusebjerg, a senior strategist at Nordea Bank in Copenhagen, told Bloomberg News. "The risk is that it will take massive resources to keep interest rates under control in Italy and Spain if Greece leaves the monetary union."
Italy, Spain, France and Germany are all scheduled to sell debt in the coming days.
Last week the yield on German 10-year bunds dropped to a record low, while the yield on Spain's 10-year bond soared back above 6 per cent, a level deemed too expensive to be sustainable.
In the US, investors will scrutinise quarterly earnings of companies including Home Depot, Target and Wal-Mart in coming days. While the numbers certainly haven't been stellar across the board, they have been good enough to inspire confidence that American corporate profits are holding up relatively well.
"I think earnings and valuations are still very compelling," Evan Nowack, managing director at HighTower's Leventhal Group in Bethesda, Maryland, told Reuters.
"Unfortunately, what we're looking at on earnings and valuations is going to be overshadowed by the fact that we've got these global issues we're dealing with: Greece and France and their elections, and debt issues and the possible breakup of the euro," he said.
The latest clues on the US economy, which recently has been providing mixed signals, will come in the form of consumer prices and retail sales on Tuesday, as well as housing starts and industrial output on Wednesday.
Investors will also assess the minutes of the latest Federal Open Market Committee meeting, released on Wednesday.
Group of Eight leaders are preparing to meet at Camp David at the end of the week, and Europe's on-going problems will no doubt feature high on the agenda.
And banks will remain in focus amid JPMorgan Chase's multibillion-dollar woes, revealed late last week following an "egregious" failure in its chief investment office. The revelation has seriously set back efforts by financial institutions to restore their tarnished reputations following the 2008 meltdown.
JPMorgan Chase chairman and CEO Jamie Dimon told NBC on Sunday that its US$2 billion trading loss will provide ammunition for bank regulators to increase their control on financial institutions through stricter rules.
The loss might widen by an additional US$1 billion this quarter or next, Dimon told analysts on May 10, according to Bloomberg.
In the past five trading sessions, the Standard & Poor's 500 Index slid 1.1 per cent, while the Dow Jones Industrial average shed 1.7 per cent and the Nasdaq Composite Index weakened 0.8 per cent.