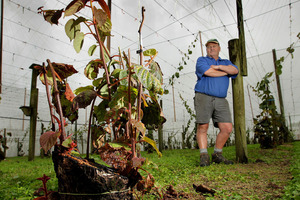 The bacterial disease expected to cost the New Zealand kiwifruit industry 470 jobs and up to NZ$885 million originated in China, a new study has shown.
Kiwifruit canker, or Psa, has spread to 1184 New Zealand orchards since it was discovered in the Bay of Plenty region in November 2010.
Combating the disease is expected to cost between $310 million and $410 million over the next five years - with the long term bill rising to between $740 million and $885 million.
US and Italian scientists have used DNA sequencing technology to examine links between the Psa bacteria and a disease which afflicted orchards in China and Japan in the 1980s.
Their findings, printed in the journal PLoS ONE, showed the bacteria from China and New Zealand were almost identical.
Virginia Tech associate professor Boris Vinatzer and Giorgio Balestra of the University of Tuscia in Italy said the bacterium was likely imported from China to New Zealand.
"The first step in stopping the spread of aggressive bacteria like Psa is knowing where they come from and how they have spread," Balestra said.
"Now that we have sequenced the DNA and found its likely origin, we can start to figure out ways to stop it and similar bacteria from doing so much damage in the future."
Psa was first discovered in Italy in 2008, leading to widespread destruction of Kiwifruit stocks across Europe.
Vinatzer and Balestra said that leak was separate from the one which introduced the disease to New Zealand.
Zespri, New Zealand's largest kiwifruit exporter, said the Psa-V scourge had created a "significant problem" at the production end of the company, yet the downturn in gold kiwifruit this year was not proving a problem at the marketplace.
While the drop in gold kiwifruit harvested was expected to be between 20 and 30 per cent, Zespri expected to harvest 90 million trays of fruit this season, Zespri grower and government relations general manager Simon Limmer said.
"We just need to adjust the business accordingly now and make sure our strategic markets are still being supplied."