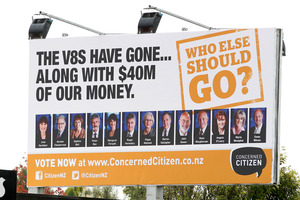 The Hamilton businessman and "Concerned Citizen" behind a new and visible campaign taking the Mayor and councillors to task says he has no personal agenda.
The Herald can reveal the "Concerned Citizen" bankrolling a costly campaign targeting the city council is Ray Stark, executive chairman of Hamilton-founded global interactive messaging company TalkingTech.
Mr Stark's campaign has become the talk of the city in the past few days and so far comprises two billboards, a Facebook page and the concernedcitizen.co.nz website. And there is more to come, including another billboard in the city and more online activities.
Mr Stark planned to roll out campaigns in other cities in New Zealand he is connected with.
The two Hamilton billboards have been strategically placed.
The first, on the corner of Mill and Willoughby Sts near Waikato Stadium and the V8 track, blamed the council for the $40 million V8 blowout.
The other, on the corner of Claudelands Rd and Grey St, mimics a real estate sign selling a "busted" Claudelands Event Centre. The Roadsite Attractions-owned billboard have a monthly rental fee of $3500 each.
But Mr Stark, who is a Hamilton resident, said he put up the billboards because he was genuinely worried about the city. He claimed to have no backers and no intention of standing in the local body elections in October 2013.
"City hall needs to take stock. It's spending way out of its remit. I'm not getting into a personal situation, but some of these local politicians have got to be on drugs. They don't have any regard for the average person in the street.
"You get to a stage in life when you can't tolerate it any more so you can do one of two things. You can turn a blind eye and let the next generation pick it up and have the problem - well, I'm not prepared to do that. I don't know what will come out of this but I've made a statement and I'm true to my word, I will follow through with stuff."
While his main goal was to make people think, he also hoped it would encourage like-minded people with fresh ideas to stand in the next election.
The concernedcitizen.co.nz website described itself as a forum for Hamilton citizens to gain information and express their views on the city council's policies, activities and governance.
Mr Stark has kept a low profile since standing for Hamilton City Council under the City Vision team in 1998. He was previously a member of the Citizens and Ratepayers Council, as it was called then.
Councillors were yesterday also doing their own investigations on the billboards.
Dave Macpherson and Hamilton Deputy Mayor Gordon Chesterman called the people behind the campaign "cowardly" and said they should front up. Other high-profile Hamiltonians and business groups, including former mayors David Braithwaite and Margaret Evans, Waikato Property Council and Hamilton Citizens and Ratepayers Association, denied having any knowledge of who was behind the campaign.
Mr Braithwaite said the billboards were a signal the community was concerned and there would be an increasing interest in next year's election.
Ms Evans said the concern among ratepayers had deepened largely because of the council's latest crisis, dubbed "floodgate" when there was public outrage after 28,000 properties were labelled a flood risk.
There are no rules around putting up a politically based billboard providing it was on a consented billboard site and the message was not offensive.