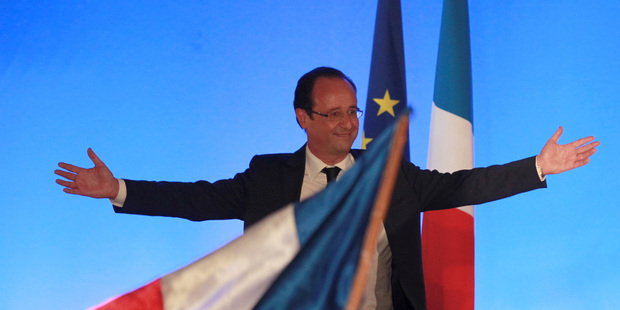 The Euro has fallen in Asian markets after the defeat of ruling parties in French and Greek elections, as investors worried about a knock-on effect on European austerity measures.
The euro is now at $1.2974, down from $1.3082 on Friday.
In France, Socialist challenger Francois Hollande was set to be confirmed as France's president-elect, after his predecessor President Nicolas Sarkozy conceded defeat, according to nearly complete results issued on Sunday.
With 91 per cent of the ballots counted, the Socialist winner had 51.56 per cent of the ballots while Sarkozy had 48.44 per cent.
Analysts said the victory underscored the politically difficult task of selling austerity measures ushered in to tackle eurozone nations' huge debts, with Hollande advocating economic growth over deep public spending cuts.
"The Hollande win in France is not necessarily a surprise. However it brings home the reality that incumbents following the (European Union's) prescribed austerity measures are going to find it difficult to remain elected," National Australia Bank said in a note.
"What happens to these austerity measures now are what are weighing on (the euro)."
Greek voters meanwhile showed their lack of enthusiasm for belt tightening, dousing hopes that Athens will stick to its austerity pledges as parties opposing more cuts won almost 60.0 per cent support in an election Sunday.
The two main parties suffered heavy losses, with the conservative New Democracy and the left-wing Pasok getting just 32.0 to 34.5 per cent between them, down from 77.4 per cent at the last polls in 2009.
New Democracy, led by Antonis Samaras, remained the largest party but it fell short of an absolute majority in parliament.
"Greece's elections may prove the more unstable, with the possibility of another in the near future," the bank said in its research note.
"As it stands there is no clear winner, but there are likely to be calls to ease up on the austerity reforms," it added.
- AFP