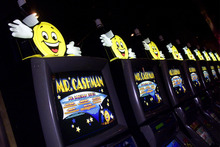 A deal being negotiated with the government to allow Sky City more pokie machines in return for building a convention centre in Auckland now has a cap on the amount of new machines the casino will be granted.
Prime Minister John Key this morning told TVNZ's Breakfast programme that 483 pokie machines throughout New Zealand would be decommissioned this year under the government's sinking lid policy, and that Sky City would not be getting more than that.
Goldman Sachs New Zealand analyst Marcus Curley said in a note on the deal last month that Sky City would need at least 350 new machines for the $350 million convention centre - which the government does not want to help fund - to pay off.