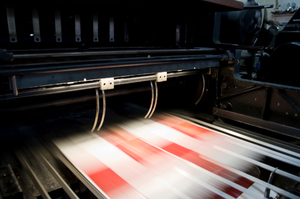 PMP, the Sydney-based printing and distribution company, said it has received a "highly conditional" takeover offer for almost three times its current share price.
The company's directors "advise that they have received a highly conditional, non-binding, indicative offer for the purchase of PMP in a range between A$0.68 to A$0.78 cents per share," chairman Ian Fraser said in a brief statement.
"The directors are considering the approach and will keep the market informed of developments," he said.
PMP rose 12 per cent to 28 cents on the ASX today. The stock has dropped 48 per cent so far this year and reached a record low 25 cents this week.
Earlier this week the company downgraded its annual profit forecast and announced plans to cut costs.
The company also operates in New Zealand, printing magazines and advertising materials for companies such as Fairfax Media, New World supermarkets and Sky Network Television and distributing magazines through its Gordon & Gotch subsidiary.