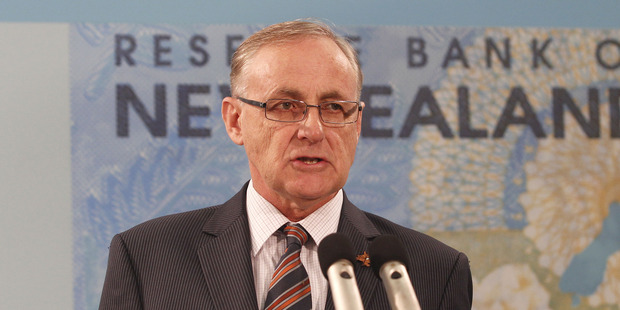 More evidence has emerged today of a difference of views between the Reserve Bank and some mainstream commercial banks after the central bank warned that a rate cut may be on the cards if the New Zealand dollar remained strong.
The Reserve Bank, in opting to leave its official cash rate at 2.50 per cent at today's rate review, issued a thinly veiled threat that it would start cutting rates if the New Zealand dollar remained high.
Reserve Bank Governor Alan Bollard said inflation is restrained and is expected to stay near the middle of its 1 to 3 per cent target range.
Inflation, as measured by the consumers price index, rose by 0.5 per cent in the March quarter and by 1.6 per cent in the year to March.
Bollard, in the bank's review of the official cash rate (OCR), said the domestic economy was showing signs of recovery but that the global outlook remained of some concern.
"Near-term indicators have moderated and financial market sentiment is still fragile," Bollard said.
He said New Zealand dollar had stayed high despite recent falls in commodity prices.
"Should the exchange rate remain strong without anything else changing, the bank would need to reassess the outlook for monetary policy settings," he said.
The Bank of NZ, Westpac and ASB Bank are less relaxed about the threat of inflation and have forecast the central bank would start raising rates by late this year.
But Shamubeel Eaqub, principal economist at New Zealand Institute of Economic Research, said he did not think the Reserve Bank would be in any position to raise interest rates at least until the middle of next year.
"It seems like they may even be open to cutting rates if the exchange rate remains high," he told APNZ.
ASB, in an economic commentary, said it expected near-term inflation to be weaker than the Reserve Bank forecast in March, mostly due to the strong New Zealand dollar.
"However, from 2013 we expect underlying inflation pressures to pick up swiftly," ASB said.
"We continue to believe the Reserve Bank is underestimating medium-term non-tradeable inflation pressures," it said.
"We have held to our view that the first OCR increase will occur in December, but the risks remain skewed to a later start," ASB said.
The Reserve Bank's comments had little impact on the New Zealand dollar.
By midday, the Kiwi was at US81.54 from US81.42 just before the Reserve Bank's release.

- APNZ