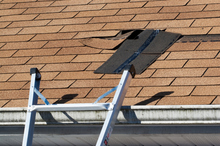 The risky business of working on ladders and roofs is being tackled with new Department of Labour guidelines.
Labour Minister Kate Wilkinson launched the new guidelines for working at height during a visit to a construction site in Christchurch this morning, saying she hoped the simple advice would help reduce the death and injury toll from avoidable falls.
"Falls while working at height cost this country an estimated $24 million every year," Ms Wilkinson said.
"Businesses need to appreciate the importance of workplace safety not just from the perspective of the human cost - but also for the benefits to productivity."
According to Department of Labour figures, more than half the falls in construction while working at height were from under three metres, and about 70 per cent of those were from ladders and roofs.
Builders, roofers, electrical workers, painters and decorators were the most likely to fall from height and get seriously hurt while they are working.
- APNZ