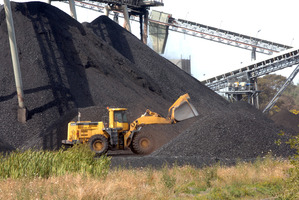 Solid Energy, the state-owned coal miner earmarked for partial sale, lifted production by 24 per cent to the most in eight quarters in the first three months of the year.
The company's increased output was driven by its largest operations at Stockton and Rotowaro, which lifted output by 39 per cent and 15 per cent respectively.
Total coal production was 1.16 million metric tonnes in the first quarter, the most since the col miner produced 1.24 million tonnes in the June quarter of 2010. Solid Energy's biggest quarter ever was in April-to-June of 2008, when it produced 1.306 million tonnes.
Huntly East Mine was the only facility not to increase output in the latest quarter, which Solid Energy said was because of harder mining conditions.
Total coal sales in the quarter rose 29 per cent to 1.12 million tonnes, as export sales jumped 66 per cent to 605,000 tonnes and local sales gained 2 per cent to 516,000 tonnes.