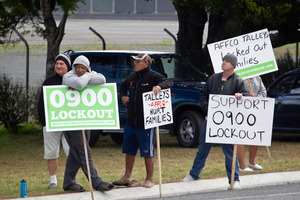 The union for hundreds of locked out meatworkers in a long-running contractual dispute with Talley's has filed for facilitated bargaining after mediation scheduled for yesterday broke down.
The New Zealand Meat Workers Union filed for the facilitated bargaining with the Department of Labour after it said Talley's refused to attend mediation.
Facilitated bargaining is the highest form of Government-assisted mediation and is available only to parties having serious difficulties in collective bargaining.
Unlike mediation, the facilitator actively assists the parties and makes non-binding recommendations.
The union's chairman Dave Eastlake said the mediation no-show was "yet another kick in the guts" for the 1000 locked out Affco workers and their families. The lockout is nearing its eighth week.
"Talley's has consistently shown it is unwilling to resolve this dispute and get our workers back to work," Mr Eastlake said.
"We can now confirm Talley's has dropped a pay offer that would have ended discrimination against union members by bringing their pay rates up to those on individual contracts. Affco workers have absolutely no doubt the lockout is about punishing workers for standing up and wanting a collective voice at work.
Mr Eastlake said Talley's pulled out of mediation talks because it said it was too busy working on its legal challenge to the lockout, which will be heard at the Employment Court next Monday and Tuesday in Auckland.
"Talley's knew about the court case when they agreed to attend mediation. If they've got enough time and money to throw away on a public relations firm and to file false fraud claims against the union - which they knew would be rejected - then they've got enough time to sit down with Affco workers and get this thing sorted."
Affco said it had signed collective agreements with three unions in the past week and was hopeful the Meat Workers Union would take a "more constructive approach" towards settlement for its members.
Its chief executive, Hamish Simson, accused the union of being content with putting its members repeatedly on strike with no pay, while publicising the economic effects of the lockout. Mr Simson said many union members were choosing to go back to work.
"Affco remains open to constructive discussion with the union in good faith," he said.
"Through bargaining the company wants a clear, modern, flexible collective that is not subject to continual legal challenges by the union."
LOCKOUT
* The Meat Workers Union has filed for facilitated bargaining.
* Scheduled mediation broke down yesterday.
* 1000 Affco workers are locked out.
* The lockout is nearing its eighth week.