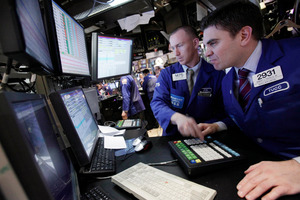 The International Monetary Fund's more upbeat outlook for both the global and the US economy, as well as solid demand for Spanish debt helped bolster equities on Wall Street and in Europe.
Also underpinning gains were first-quarter earnings of American companies including Coca-Cola and Goldman Sachs. Of the 39 companies in the S&P 500 that reported through to Tuesday morning, 74.4 per cent surpassed analysts' forecasts, according to Thomson Reuters data.
The world economy will grow 3.5 per cent this year, up from January's forecast for 3.3 per cent, the IMF said today in its World Economic Outlook. For 2013, it predicted growth of 4.1 per cent, up from 4.0 per cent. It also boosted its outlook for the US economy, predicting expansion of 2.1 per cent this year and 2.4 per cent next year.
In afternoon trading in New York, the Dow Jones Industrial Average climbed 1.55 per cent and the Standard & Poor's 500 Index rose 1.62 per cent.
The Nasdaq Composite Index jumped 2.08 per cent, propelled by a rebound in Apple shares of more than 4 per cent.
In Europe, the Stoxx 600 Index ended the session with a 2 per cent gain for the day.
In Germany, investors proved more optimistic than anticipated as confidence unexpectedly rose. The ZEW Centre for European Economic Research's index of investor and analyst expectations increased to 23.4 in April from 22.3 the previous month.
Investors breathed a collective sigh of relief when Spain drew solid demand for its debt auction. The Treasury sold 3.18 billion euros of bills today, compared with a maximum target of 3 billion euros it had set for the sale, according to Bloomberg.
The average 12-month yield was 2.623 per cent, compared with 1.418 per cent at the last auction on March 20, the Bank of Spain said. The Treasury also sold 18-month bills at 3.11 per cent, compared with 1.71 per cent last month.
Spain will sell 10-year bonds on April 19.
Both the IMF's improved economic outlook and the relief in the euro zone following Spain's debt auction helped lift commodities including oil and gold. Crude oil for May delivery rose 1.2 per cent to US$104.20 a barrel in afternoon trading on the New York Mercantile Exchange.
"The single most important driver of crude-oil demand is macroeconomic growth," Jason Schenker, president of Prestige Economics, an Austin, Texas-based energy consultant, told Bloomberg. "The IMF report is indicative of more growth in much of the world, which is very bullish for commodities."