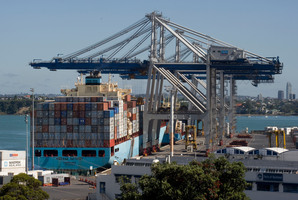 Wharfies returning to work at Ports of Auckland are being met with security guards in their lunchrooms and extra surveillance, a union says.
The Maritime Union has lodged a complaint over security measures implemented by the ports company since stevedores who took part in long-running strike action returned to work last week.
President Garry Parsloe said the ports were now "crawling" with security guards. Cameras had been set up inside cranes and other equipment used by returning workers, he said.
He claimed the wharfies had been forbidden from wearing t-shirts or any other items affiliated with the union.
"There is nowhere in the world where they put security cameras inside crane cabs. We don't mind security but we don't think it's necessary to go that far. This is overkill.
"They're just bullying our people."
Mr Parsloe said the union had raised its objection to the extra security measures in mediation with Ports of Auckland this morning.
It had refused to answer the complaint "at this juncture", he said.
Ports of Auckland chairman Richard Pearson has previously accused union members of intimidating and threatening non-union staff.
He said the wharfies would not be allowed to return to work until steps were in place to mitigate the "huge health and safety risk".
Councillor John Walker last month alleged his wife had received a threatening phone call over the way he had voted on the port issue.
However, Mr Parsloe said the striking workers were no threat and the extra security was aimed at paint them as thugs.
"There's absolutely no thuggery there. There's absolutely none. If there is then call the police."
Ports of Auckland this morning said it was offering workers a 10 per cent pay increase and 160 hours of guaranteed work every four weeks.
It said a shift roster would take into account staff preferences, with preferred shifts and days off being distributed fairly and reasonably.