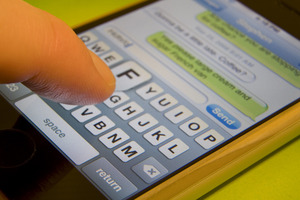 The days of the wallet may be numbered as consumers and retailers look ahead to a new era of the "virtual wallet".
Paymark, which processes the bulk of New Zealand's electronic card payments, has joined forces with telecommunication companies to set up a system whereby people need only their mobile phones to make purchases, collect loyalty points and access public transport.
Cards kept in a wallet can be replaced by applications securely stored in the virtual wallet on the mobile phone.
At checkout, customers will be able to pay by holding their mobile phone within a couple of centimetres of the adapted payment terminal. The phone communicates with the terminal to complete the transaction, and banking information is transmitted.
New Zealand Retailers Association chief executive John Albertson said it was great to see New Zealand catching up with other countries by launching its own scheme.
"Certainly I can see a day where a significant portion of the market will be operating with the phone being a base for transactions," Mr Albertson said.
"It's one of those moves that's going to probably take time for all parties to really appreciate benefits. The early adopters are probably going to be the younger generation, who are... certainly happier working everything off their phone."
Low-value transactions could be "just a pass of the phone over the terminal". But for higher-value transactions, there would need to be security measures such as a PIN number, Mr Albertson said.
Paymark chief executive Simon Tong said his company's collaboration on the new system with Vodafone, 2degrees and Telecom would focus on providing a product that was available to all and safe to use.
A trial is expected soon, with the goal being to have it in stores late next year.
2degrees chief executive Eric Hertz said: "Over the past decade, our mobile phone has swallowed our newspaper, our map and our camera to become an essential all-in-one device. The logical next step is to make it even more convenient by having it swallow our wallet, and making it the only thing you need to grab when you leave the house in the morning".