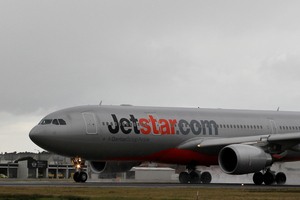 Jetstar Hong Kong will offer 50 per cent lower fares than full-service carriers.
Qantas has moved to tap into the huge market for cheaper airfares in China through the creation of a new joint venture, Jetstar Hong Kong.
Qantas said yesterday that the new budget airline would be set up in Hong Kong under an agreement with China Eastern Airlines.
Jetstar Hong Kong will begin flights in mid-2013, flying short-haul routes in China and to Japan, South Korea and Southeast Asia.
Qantas shares rose 3.5c, or 2.02 per cent, to A$1.765 yesterday as the broader market finished slightly lower.
Jetstar comprises Jetstar Airways in Australia and New Zealand, Jetstar Asia in Singapore, Jetstar Pacific in Vietnam and Jetstar Japan, slated for launch in July 2012.
"A key part of the Qantas strategy is to have expansion of the Asian markets ...
the largest aviation market in the world, the most profitable aviation market in the world," Qantas chief executive Alan Joyce, speaking from Hong Kong, said.
Joyce said Qantas had had a close relationship with China Eastern for 20 years via a code-sharing arrangement.
Qantas and China Eastern will each hold a 50 per cent stake in the joint venture.
The maximum cost of establishing the airline will be US$198 million ($243 million), to be equally shared by Qantas and China Eastern.
The new airline would start with three Airbus A320s in 2013, increasing to 18 A320s by 2015.
However, Joyce remained coy when asked how long it would take for the new joint venture to be profitable.
"We're obviously not going to give details of the business case," he said.
Joyce said the Qantas group's other low-cost venture in Asia, Jetstar Asia, had already created value for Qantas shareholders.
"The same will be true, I have no doubt, of Jetstar Japan, and this one will be the same," Joyce said.
Jetstar chief executive Bruce Buchanan said Jetstar wanted to capitalise on the enormous potential of the Chinese market.
China had a travel market of almost 300 million passengers a year and that was forecast to grow to 450 million by 2015.
Hong Kong was a major travel hub in Asia, with about 40 million passengers passing through annually.
"Jetstar Hong Kong's fares will be 50 per cent less than existing full-service carriers, which we've seen create new travel demand in our markets across Asia because it enables people to take more trips, more often," Buchanan said.
Buchanan said governments around Asia were now encouraging low-cost airlines because they could see the economic benefits that they created, especially for tourism.
Joyce said other carriers were looking at Hong Kong but Jetstar had first-mover advantage.
"We can take the opportunity faster than anybody out there," Joyce said.
He said the Qantas group was keeping an eye out for more opportunities in Asia, including premium and low-cost airline ventures.
"We have the capabilities of doing much more than we're doing," he said.
Qantas was not currently looking at establishing another premium brand via a joint venture.
- AAP