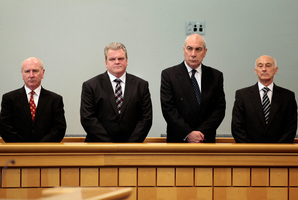 Bridgecorp director Peter Steigrad was more entitled to rely on the failed finance company's management than his co-accused, his lawyer says.
Steigrad - along with fellow directors Rod Petricevic and Rob Roest - is on trial in Auckland for allegedly misleading investors in Bridgecorp offer documents.
Roest and Petricevic are also both accused of knowingly making false statements in offer documents that Bridgecorp never missed payments of interest or principal to investors.
The Crown says Bridgecorp began missing payments nearly five months before it collapsed in July 2007, owing 14,500 investors $459 million.
In what is expected to be the final day of a trial that started in October, Steigrad's lawyer, Brian Keane QC, is giving closing submissions in his client's defence.
Along with attempting to pick apart the reliability of Crown witnesses, Keane said Steigrad had a right to rely on information from Bridgecorp's management.
"As a non executive director and as an independent director he must on necessity have a greater reliance on management and information provided by management and his focus should be on governance," Keane said.
Steigrad's "right to point to reliance" is stronger than that of Petricevic and Roest, who were executive directors, he said.
Keane said "critical information", such as the failure of the company to meet payments to investors, was withheld from his client.
"He did not know of the 7th of Feb failure to make payments, he did not know of the 30th March failure to make payments. He was not told there was not enough money, therefore some of the underlying assumptions that underpin the way these charges are a laid are in respect to him quite inappropriate and inapplicable," Keane said this morning.
Keane's closing arguments continue this morning.
Justice Geoffrey Venning has indicated he will give his verdict on April 5.
That same week, former Bridgecorp director Gary Urwin is expected to be sentenced after a disputed facts hearing.
Urwin originally pleaded not guilty and appeared in court with Petricevic, Roest and Steigrad. But he changed his plea in November last year.
The charges carry a maximum penalty of five years' jail or a fine of up to $300,000.
Former Bridgecorp chairman Bruce Davidson was sentenced to nine months' home detention in October after changing his plea to guilty, and was ordered to pay $500,000 reparations and perform 200 hours of community work.