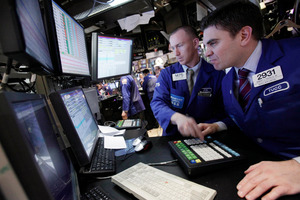 US stocks took off overnight and the Dow zoomed past the 13,000 mark driven by soaring bank shares, sparked by JPMorgan Chase's announcement of a huge share buyback and dividend hike.
After a sharp surge higher in the final hour the Dow Jones Industrial Average closed up 217.97 points (1.68 per cent) to 13,177.68.
The broad-based S&P 500 gained 24.87 (1.81 per cent) to 1,395.96, while the tech-heavy Nasdaq Composite added 56.22 points (1.88 per cent) to 3,039.88.
Shares edged up in early trade helped by a strong showing in February in retail sales data that showed growth picking up to 1.1 per cent month-on-month.
The Federal Reserve kept its low interest rate policy in place but acknowledged some improvement in the economy, further helping sentiment.
A final surge came after JPMorgan announced it had cleared Fed stress tests and would boost its dividend by 20 per cent and embark on a $15 billion share buyback program.
JPMorgan shares added 7.3 per cent, dragging the other major banks with it ahead of the Fed's release of all the stress test results.
Bank of America gained 6.3 per cent, Citigroup 6.3 per cent, Wells Fargo 5.8 per cent, and Goldman Sachs 6.5 per cent.
In other blue-chip action, Alcoa surged 4.5 per cent, General Electric added 2.6 per cent, Caterpillar 3.9 per cent, Apple 2.9 per cent and eBay 3.0 per cent.
Bond prices dropped. The yield on the 10-year Treasury surged to 2.11 per cent from 2.03 per cent Monday, while the 30-year increased to 3.25 per cent from 3.17 per cent.
Bond prices and yields move in opposite directions.
-AFP