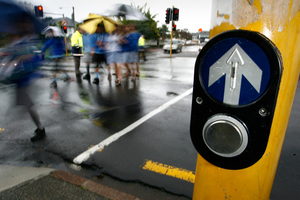 The technology might sound pedestrian, but there is nothing dull about the deal a local company has struck with a London transport agency.
New Zealand road signal company Traffic Systems has won an international tender to supply Transport for London with pedestrian crossing equipment.
Traffic Systems is one of two companies that will provide countdown timers - signals that tell people crossing the road exactly how long they have before the lights change - for 6000 intersections in London.
Traffic Systems co-owner Andrea Ransley said the deal was three years in the making and potentially worth tens of millions of dollars.
The London project is the company's first international foray and although it will still be competing with one other supplier, Ransley said Traffic Systems had a head start.
"We've been over and we've had our prototype accepted.
"We are way ahead of the other supplier so we will be getting the initial 300 order which has to be installed before the [2012] Olympics," she said.
Ransley claimed the countdown timers were far safer than other sorts of pedestrian signals and said they should help save the life of one Londoner a week.
London has about 1500 fatal incidents involving pedestrians every year and the introduction of countdown timers has become a pet project of the city's mayor, Boris Johnson.
Ransley said opportunities for Traffic Systems in Britain were huge given the region has 60,000 intersections where the timers could be installed.
Founded in 1994, Traffic Systems is based in Auckland and has about 65 staff.