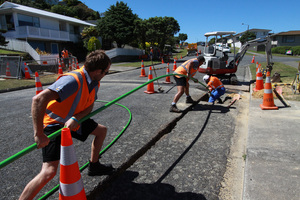 Chorus, the telecommunications infrastructure company, said it would start building its ultra-fast broadband network in six more towns from July this year.
The company, which was separated from Telecom last year, said it would start construction of its network in Invercargill, Nelson, Oamaru, Queenstown, Timaru and Whakatane, as well as continuing to extend its fibre network in areas where work is already underway.
By June 2013 Chorus will have delivered fibre past 149,000 premises, the company said in a statement.
Chorus CEO Mark Ratcliffe said construction was gaining momentum.
"Each week, our team lays a further 50km of new fibre optic cable past homes, schools, major health facilities and businesses," he said.
The company is working with Crown Fibre Holdings - which was established to manage the Government's $1.5 billion investment in UFB - on the indicative forecasts for the full UFB programme.
Chorus has started rolling out new UFB network in Auckland, Ashburton, Blenheim, Dunedin, Napier-Hastings, Palmerston North, Rotorua, Taupo and the greater Wellington region.
In all, Chorus will extend the reach of its existing 29,000km fibre network to deploy UFB past more than 830,000 urban homes, businesses, schools, hospitals and medical facilities throughout New Zealand by the end of 2019, it said.
Shares in Chorus last traded at $3.32.
On Wednesday, internet service provider Orcon says it is offering a $75-a-month pricing plan for households to connect to the new UFB network.
Orcon is owned by state-owned broadcast and telecommunications company, Kordia.
- APNZ