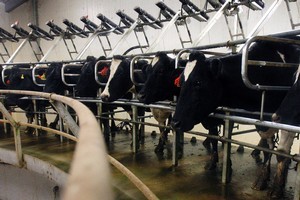 Prices of dairy products fell for the third straight sale on the GlobalDairyTrade platform in a week in which China lowered its target for economic growth and figures confirmed Europe's economy contracted.
The GDT-TWI Price Index fell 0.9 percent compared to the last sale two weeks ago. The average winning price declined to US$3,576 a metric tonne. The price of whole milk powder fell 0.3 percent to US$3,409.
Prices of commodities fell 1.4 percent overnight, based on the Thomson Reuters/Jefferies CRB Commodity Index and equity markets sank after Europe confirmed its economy shrank 0.3 percent in the fourth quarter. Growth assets were already under pressure after China lowered its target for gross domestic product to 7.5 percent from 8 percent.
The average winning price for skim milk powder fell 1.9 percent to US$3,194 a metric tonne while anhydrous milk fat rose 3.7 percent to US$3,631 a tonne. Butter milk powder wasn't offered at this week's sale.
Cheddar fell 1.3 percent to US$3,497 a tonne and milk protein concentrate declined 7.6 percent to US$5,131 a tonne. Rennet casein fell 2.5 percent to US$7,519 a tonne.
There were 112 winning bidders over 11 rounds, out of 145 participating bidders. The number of qualified bidders is now 580.