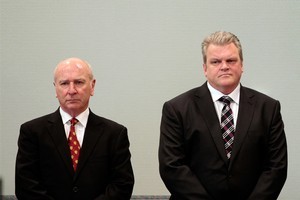 Bridgecorp director Rob Roest has admitted he knew about "delayed" payments to investors months before the failed finance company collapsed - and says his co-accused Rod Petricevic was also aware of the issue.
Petricevic and Roest - with fellow director Peter Steigrad - are accused of misleading investors in Bridgecorp's offer documents and are on trial in the High Court at Auckland.
As well as charges under the Securities Act, Petricevic and Roest face eight counts of knowingly making false statements in offer documents that Bridgecorp had never missed interest payments or repayments of principal to investors.
According to Crown evidence tabled earlier in the case, Bridgecorp began missing payments from February 7, 2007, when it failed to pay $206,000 due to investors.
Under a searching cross-examination yesterday by Financial Markets Authority lawyer Brian Dickey, Roest said knew about the issue the day after (on February 8) but denied the payment was missed.
During his evidence, Roest has labelled the payments "delayed" and said investors were often paid the next day.
Roest "was deep in the lie" about Bridgecorp missing payments, Mr Dickey said yesterday afternoon.
"You are just lying now, aren't you?" the Crown lawyer said. "Would you agree that it's staggering to think a finance company with more than $500 million of investor funds in it can't find $206,000 on a given date to meet its obligations?"
Roest replied that it was not and said he could not understand why investors were not paid "because the money was in the bank".
Asked if he had told any other directors about the "missed" or "delayed" payments, the former financial controller said he would have told Petricevic of the situation.
The 55-year-old accountant said he also told former Bridgecorp director Gary Urwin of the issue.
Urwin originally pleaded not guilty and appeared in court with Petricevic, Roest and Steigrad.
But he changed his plea in November last year and is awaiting sentencing in April.
The charges carry a maximum penalty of five years in jail or a fine of up to $300,000.
Former Bridgecorp chairman Bruce Davidson was sentenced to nine months' home detention in October after he changed his plea to guilty.
He was also ordered to pay reparations of $500,000 and perform 200 hours' community work.
The trio on trial deny the charges against them.
Bridgecorp collapsed in July 2007, owing 14,500 investors $459 million.