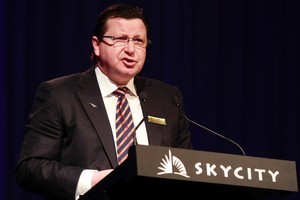 SkyCity chief executive Nigel Morrison is not ruling out future interest in Echo Entertainment's Queensland casino assets after the Packer organisation moved in on the firm last week.
SkyCity might be interested in Queensland casinos, which also include Treasury in Brisbane and Jupiters in the Gold Coast and Townsville.
Last week Echo released a statement to the Australian Stock Exchange saying that Crown, the rival casino operator controlled by billionaire James Packer, had doubled its stake in the company to 10 per cent and sought regulatory approval to buy more.
Echo also owns Sydney's only casino, The Star.
Morrison said SkyCity was unaware of the assets of Echo Entertainment being up for sale. But if there were surplus assets for sale - such as in Queensland - it might be interested.
SkyCity is focused on developing its New Zealand convention centre and the redevelopment of its Adelaide-based casino.
The former is awaiting negotiation of a deal with the Government cutting regulation in return for SkyCity funding the $350 million convention centre.
But interim results released last week showed the company was in a position to make acquisitions. SkyCity reported first-half profit jumped 17 per cent to $78.8 million.
Shares closed up 9c at $3.77 on the NZX yesterday.