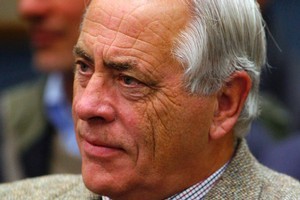 Sir Douglas Graham. File photo / Sarah Ivey
Pensioner Paul Wah would not have invested a single cent with Lombard Finance if Sir Douglas Graham and Bill Jeffries - two former Ministers of Justice - hadn't been at the helm.
Like so many of the company's investors, the Lower Hutt 79-year-old put his faith and six-figure life savings in the hands of the reputable men who ran the company, only to see his money swallowed up when Lombard collapsed in 2008.
Mr Wah was one of several investors in the High Court at Wellington yesterday who allowed themselves a smile of mild satisfaction to hear the word "guilty".
Lombard Finance was put into receivership in April 2008, owing $125 million to 4400 investors.
Yesterday, a judge found the directors - Graham (chairman), Jeffries, Lawrence Bryant and Michael Reeves - guilty of making untrue statements about the company's position in its offer documents in December 2007.
"These people put themselves up as people of integrity," Mr Wah said. "If I can't trust Sir Douglas Graham, who would I trust?
"The gravity of this offence is that it has been committed against older people who gave their life savings to this company on the basis of the veracity of Douglas Graham and Bill Jeffries."
Mr Wah has now added his voice to a chorus calling for Graham's knighthood to be stripped.
"How can a knight of the realm be ... not a common criminal but someone guilty of criminal conduct?" the pensioner asked. "My fondest wish would be to see those guys on bread and water for a few years."
Relatives of the defendants wept as the guilty verdicts were read out. The men were remanded on bail to reappear for sentencing on March 29.
The charges carry a maximum penalty of $300,000 in fines or five years' imprisonment. Justice Robert Dobson indicated a community sentence would be suitable, but did not rule out a jail term.
He said the men were guilty of aspects of four charges under the Securities Act, including failure to properly disclose the company's liquidity risks.
In his ruling, he said readers of Lombard's offer documents would have had a very different view of the risk of investing had they been informed of "the extent of the company's concerns, plus the downwards trend in cash and the extent of error in management projections of loan repayments".
Graham himself lost money - he reinvested $12,000 of $17,000 of matured debentures in October 2007, and also held a small stake in Lombard Group, then NZX-listed.
Mr Wah and other investors had been waiting anxiously for yesterday's verdict and felt a sense of justice to see Graham - knighted in 1999 while still a Cabinet minister for his contribution to the justice and Treaty settlement areas - fall from grace.
Mr Wah recalled a Lombard meeting at the end of 2007 which Graham fronted as chairman.
"These men stood up, giving their personal assurance that all was well. On the basis of that meeting, people like myself reinvested their money.
"We're not stupid. We were aware that the market was unstable. And our reinvestment came as a result of those men fronting up."
Mr Wah said he asked Graham specifically about the company's cash reserves.
"He looked me in the eye and he said the company had been stockpiling cash and had sufficient money to meet [repayments].
"I'm incensed about the whole thing, but at least it's a conviction and it now allows the opportunity for a class action to proceed."
It is a long way to fall for 70-year-old Graham, whose conviction of a serious crime strips him of his 90 per cent international travel rebate that he was entitled to as a former MP.
Jeffries, who was also a Justice Minister (in a Labour Government) and entitled to a 60 per cent rebate, is also stripped of this perk.
Graham was considered a high-flyer and a future contender for the party leadership when he entered Parliament in 1984.
In the 1990s, as Justice Minister, he introduced a number of important pieces of legislation, including the Companies Act and laws relating to domestic violence and DNA testing of suspects.
But his parliamentary legacy was in changing National's attitude towards Maori in his role as Treaty Negotiations Minister, a role that he later said consumed him and at times drove him to tears after learning of the injustices Maori had endured.
Yesterday, a number of National Party stalwarts were saddened to hear of the verdict, including former Prime Minister Jim Bolger.
"Doug was held in very high esteem by me and the National caucus during the time I was leader," said Mr Bolger.
"He was a man of total integrity. We worked closely together on Treaty settlements and he did a tremendous job.
"Knowing Doug Graham and knowing Bill Jeffries, I'm very surprised [by the verdict], and saddened by it."
Speaker Lockwood Smith, who entered Parliament for National in 1984 with Graham, said his former colleague was held in high regard. "He is a person of enormous integrity and he saw the need to right some wrongs. He was well liked, hard working, reliable."
Graham did not comment yesterday, directing questions to his lawyer, Paul Davison, QC, who said he was considering lodging an appeal.
He said the verdict, which upheld only aspects of the Crown case, reflected the "honesty and integrity in relation to their management and governance of this company".
"There was nothing in the way this company was operated that was intentionally misleading in any way whatsoever, and the fact that the Crown has proven its charges in relation to these liquidity issues is a matter of hindsight, judgment and assessment that is clearer now than was ever available to those making decisions at the time."
In a statement, Graham said the directors regretted that investors "may have been misled" and were out of pocket.
"The directors did all they possibly could to save the company to protect investors and acted on expert advice at all times."
But Gino Zambon, 78, who said he had had "substantial" savings with Lombard, said Graham should lose his knighthood.
"In my eyes it should be stripped. Why would a person in that position compromise himself to that extent? It's unbelievable.
"They should be made to wear a yellow jumpsuit when they do their community sentence and clean-ups, and it should be published in the paper so people can go and look at them and say, 'Oh, how the mighty have fallen'."
Mr Wah said it was hard to know if justice had been done.
"What justice there is will be in the discrediting of those reputable people. For us who put our faith in these people ... what you're talking about is the ruination of our lives, so there can be no justice for us."
Only PM decides if Sir Douglas Graham loses his title
Many Lombard investors want Sir Douglas Graham stripped of his knighthood, but the only opinion that really matters is the Prime Minister's.
Sir Douglas was knighted in 1999, while still a Cabinet minister, for services to the justice sector and Treaty of Waitangi settlements - ministerial portfolios he held in the 1990s.
Yesterday, he did not comment on calls for his knighthood to be removed, and his lawyer, Paul Davison, QC, said it was a matter for Sir Douglas to consider.
A person has to make a pre-eminent contribution to a field to be made a Knight Companion of the New Zealand Order of Merit by the Queen.
A knighthood can be removed only at the discretion of the Prime Minister.
A spokesman for John Key indicated the PM would consider the matter in due course.
"In these circumstances, where the case is still before the courts, it would be premature to speculate on whether consideration would be given to removing Sir Doug Graham's knighthood."
It is unclear whether any New Zealanders have been stripped of their knighthoods - though this has happened overseas.
This month, the Cabinet Office of the British Government annulled the knighthood of former Royal Bank of Scotland chief executive Fred Goodwin because the "scale and severity of the impact of his actions" had brought the honours system into disrepute.
He had resigned in October 2008 as the bank was failing, pocketing £16 million ($30.5 million) in pension benefits and earning himself a reputation as a villain of the financial crisis.
The roll of shame
* Former Aucklander Albert Henry, the first Premier of the Cook Islands, lost his knighthood - bestowed in 1974 - after he was forced to resign in a 1978 voting scandal for which he was later convicted of fraud.
* Disgraced doctor and former Christchurch Deputy Mayor Morgan Fahey was stripped of his rank as an Officer of the Order of the British Empire after he was convicted of rape, sexual violation and indent assault in 2000.
* In the United Kingdom this month, former Royal Bank of Scotland chief executive Frank Goodwin was stripped of his knighthood after leading the bank into near collapse.
* Queensland cop Terry Lewis was knighted in 1986 for services to police, but was convicted of corruption and forgery charges and was stripped of his knighthood and other honours and titles in 1993.
* In 1994, Zimbabwe President Robert Mugabe was made an honorary Knight Grand Cross of the Order of the Bath, but in 2008, the Queen cancelled this on the advice of the British Government.
* Former MP and prominent UK author Lord Jeffrey Archer kept his title despite being convicted of perjury and perverting the course of justice in 2001. His title of "Lord" is considered a life peerage, rather than an honour under the Crown.