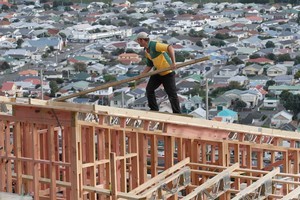 Fletcher Building's share price fell after the company reported a 13 per cent fall in its first half net profit.
The shares are now trading at the stock was at $6.50 - down 14c (2.1 per cent) from Tuesday's closing level, after the company reported a profit of $144 million for the first half to December 31, which was down from $166m in previous corresponding period.
The company's own guidance for the six months was for a net profit of $150m.
New Zealand's biggest listed company now expects its full year net profit, before unusual items, to be in a range of $310m to $340m. The company had previously said it would report a 2011/12 profit similar to last year's profit of $359m.
See the results announcement here.
Fletcher Building also said it was undertaking a strategic review of its Austalian and New Zealand insulation businesses.
Shane Solly, portfolio manager at Mint Asset Management, said the interim result was at the lower end of market expectations.
"It shows the operating environment remains challenging,'' he said.
For the six months, operating earnings (earnings before interest and tax) were $256 million, 10 per cent lower than the $285 million achieved in the first half of the 2011 financial year.
The result included unusual expenses totalling $15 million after tax incurred to date in restructuring of its Laminex business.
Fletcher Building declared an interim dividend of 17c a share, up from 16c a year earlier.
The dividend will be fully franked for Australian tax purposes but will not be imputed for New Zealand tax purposes, it said.
Total revenue for the group increased 30 per cent, as a result of the acquisition of Australia's Crane. Underlying revenues on a like-for-like basis, excluding Crane, fell by 5 per cent.
Chief Executive Jonathan Ling said trading conditions were tough, particularly in the Australian and New Zealand residential housing.
"Consequently, all of our businesses exposed to the residential markets in both countries have experienced lower volumes and reduced earnings,'' he said.
Fletcher Building is also undertaking a strategic review of its Australian and New Zealand insulation businesses, he said.
The outcome of the review may result in additional costs being incurred to improve the performance of these businesses, he said.
Fletcher Building said its guidance for the full year assumed "very modest'' increases in new housing construction in New Zealand, no improvement in Australian residential building activity and reflects the magnitude 6.3 earthquake which occurred in Canterbury on December 23, which further set back reconstruction activity.
- APNZ