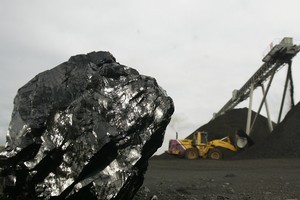 Solid Energy has stopped underground mining at its Spring Creek Mine, near Greymouth. Photo / File photo / Greg Bowker
A spokesman for the families of the Pike River Mine disaster victims says it's "great'' the Government is taking mine safety seriously by suspending operations at another West Coast mine.
The Department of Labour issued a prohibition notice to the Solid Energy-owned Spring Creek Mine for failing to report one event and not taking steps to resolve two others.
Over the past three weeks, a diesel generator caught fire and injected high concentrations of carbon monoxide into the mine; one of the main fans tripped with no alert to management for 90 minutes; and an underground auxiliary fan tripped on two consecutive days but did not stop the mining machine, as it should have, the department said in a statement.
Pike River families' spokesman Bernie Monk said he fully supported the decision to suspend operations at the mine.
"It's great to see. The families don't want to wait for the (Royal Commission of Inquiry into the Pike River mining tragedy) to be over before they put the inspectorate in place.
"Underground mining in a gassy situation is one of the most dangerous situations in our country so you've got to have openness _ you must keep people up to speed with what's going on and if we have to close down a mine then so be it. I know that the miners feel the same way.''
Grey District Mayor Tony Kokshoorn said the move showed standards of mine safety had improved since the Pike River disaster, when 29 miners lost their lives in a series of underground explosions.
"Dotting your 'i's and crossing your 't's is so important for safety in coal mines. Regulation is part of that so a combination of government and owner responsibility - rather than the onus just going on the owner - is needed.''
Ged O'Connell, the assistant national secretary for the miners' union, the Engineering Printing and Manufacturing Union, said it was concerning Solid Energy had not met best practice but he was encouraged by the Government's response.
"I think the words that are crucial here are `the employer must take all practicable steps' and it appears the high hazards unit (established by the department following Pike River) are interpreting that at a considerably higher level than they have in the past,'' he told Radio New Zealand.
Department officials had a teleconference with Solid Energy senior managers this morning.
Acting chief inspector of mines Gavin Taylor said the company had agreed to provide a full explanation of the safety failures and a definite timeline for addressing them.
"The company was open and responsive to the concerns that led us to issue the prohibition notice.
"We've told Solid Energy that, providing this information meets our requirements, we will lift the prohibition notice.''
A decision on whether the notice will be lifted is expected tomorrow.
Mr Taylor earlier said it had been determined the events that prompted the notice represented failures in management processes.
Solid Energy chief operating officer Barry Bragg acknowledged there were "gaps'' in the mine's management and reporting systems, as identified in a mine safety audit year.
However, he said staff were never at risk.
"Our first control failed but we had other controls in place to ensure our staff were safe and we're comfortable about that, but we're running investigations about why the first control failed,'' he told Radio NZ.
Spring Creek employs about 230 people, with about 40 people working underground at any given time.
Last week the department closed down the Broken Hills gold mine on the Coromandel Peninsula for failing to comply with mining regulations.
- APNZ