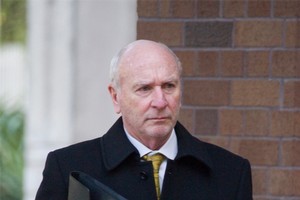 Former Bridgecorp director Rod Petricevic has told the High Court that a piece of Crown evidence against him is "complete fiction".
Petricevic is in the witness box today giving evidence in his own defence after being accused of misleading investors in Bridgecorp's offer documents.
Quizzed by his lawyer Charles Cato about Bridgecorp missing a large run of payments at the end of March 2007, Petricevic said they were not missed because they fell due on the weekend and were paid on the next banking day.
"To this day I don't consider it a missed interest payment," he said.

After the money was paid, Petricevic said he put the matter out of his mind.
Petricevic said Crown evidence he knew of a plan to tell investors that money was not paid because of computer glitch, was a "complete fiction".
According to Crown evidence, Bridgecorp began missing payments from February 7, 2007.
The 62-year-old said the first time he learned Bridgecorp missed payments to investors in February or March 2007 was when he read about it in the newspaper.
Petricevic denied having conversations with Bridgecorp employees about the company missing payments and said the issue was never raised at board or executive meetings.
When he first appeared in the witness box this morning, Petricevic stumbled slightly over his words as he apologised to his out-of-pocket investors.
"I'd like to take this opportunity to extend (an) apology to all investors for the grief and for losses... they've been conflicted with," he said.
Petricevic - along with fellow directors Rob Roest and Peter Steigrad - each face 10 Securities Act charges.
Their trial began in October and is expected run until March.
As well as the Securities Act counts, Petricevic and Roest face eight charges of knowingly making false statements in offer documents that Bridgecorp had never missed interest payments to investors, or repayments of principal.
The directors on trial deny all the charges against them.
Former Bridgecorp director Gary Urwin originally pleaded not guilty and appeared in court with Petricevic, Roest and Steigrad.
However, Urwin changed his plea in November last year and is awaiting sentencing in April.
The charges carry a maximum penalty of five years in jail or a fine of up to $300,000.
Former Bridgecorp chairman Bruce Davidson was sentenced to nine months' home detention in October after he changed his plea to guilty.
He was also ordered to pay reparations of $500,000 and perform 200 hours' community work.