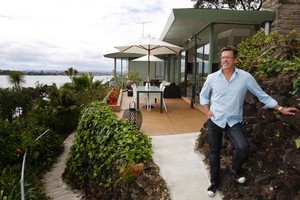 An exclusive waterfront property once owned by the Barfoot real estate family is undergoing a full renovation for a TV home makeover show.
The clifftop home in Glendowie has been stripped to bare frames for the show which will air on SkyTV.
Owner Geoff Burton declined to comment on the show but it is believed his production company MWC Media is behind the makeover. The house was in the Barfoot family for 60 years, having originally been bought by the company's founder.
It was bought last year by Burton for under the previous CV of $2,390,000. "Because I knew the property needed work, I was careful to buy under the capital valuation so as to avoid overcapitalising when I later spent money to enhance it," he said at the time.
The house was in the news after it suffered an $800,000 drop - down to $1,530,000 - in the Auckland Council's latest revaluations. Burton objected to the council about the drop but would not comment about the outcome.