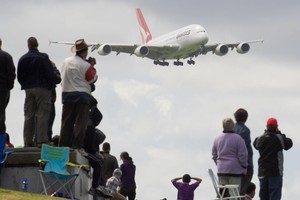 Qantas is cutting its flights between Auckland and Los Angeles as it tries to cut costs following a 83 per cent slump in half year profits.
Jobs will be also be cut as it makes changes to its engineering and catering services to deal with uncertain times in the aviation industry.
The airline has just reported an 83 per cent fall in its first half net profit to $A42 million to December 31, 2011, down from $239 million in the same period in the previous year.
As part of its cost-cutting exercise, the airline will cut its Auckland - Los Angeles services from May 6.
The airline said it will also slash capital expenditure by $200 million in the 2011/12 financial year, and cut $500 million from spending in 2012/13.
In addition, Qantas plans to consolidate its catering business into four centres in Sydney, Melbourne, Brisbane and Perth.
The lease on the current facility in Adelaide will not be renewed when it expires in March 2013, while one centre in Sydney and another in Cairns may be sold.
Its workforce planning team, which are currently dispersed around the country, will also be consolidated in Sydney.
"Job reductions are expected as a result of aircraft retirements and operational changes,'' the airline said.
Qantas will also review its heavy maintenance facilities, with the aim of consolidating its three facilities.
But there were no plans to move operations offshore, chief executive Alan Joyce said.
"With aircraft retirements, there is simply not enough heavy maintenance work to justify the three facilities in Melbourne, Brisbane and Avalon,'' he said.
He said consultations would be held with the relevant unions before a decision was made on the future of the heavy maintenance services.
"But we will be acting in the best interests of the business and our people over the long term,'' Joyce said.
"We will not be propping up the past at the expense of the future.''
- AAP