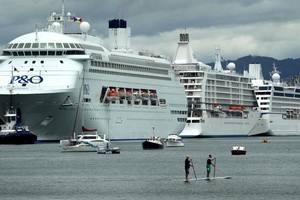 Giant cruise ships carrying thousands of passengers are an increasingly familiar site in the Port of Tauranga.
Eighty-two of the mega-ships are scheduled to visit the city this season, up from 54 last season. Next season, 92 are expected, and some of them are even larger than this year's ships.
Tourism Bay of Plenty's general manager, Glenn Ormsby, says this season's ships have the capacity to bring 150,000 tourists to Tauranga, plus 50,000 crew.
Some passengers take a trip to Rotorua while their ship is in port and others tour the Tauranga district.
"You also see another lot that stay on the ships and wander around and do their own thing in the downtown vicinity of Tauranga and Mt Maunganui. You see quite a few of them in and out of the shops and cafes.
"It's very good for the economy. It's a very significant slice of our visitors to the Western Bay of Plenty region."
Mr Ormsby says the origin of the passengers is changing.
"In the past it used to be a lot of Americans and Europeans. Now the majority would be Australians."