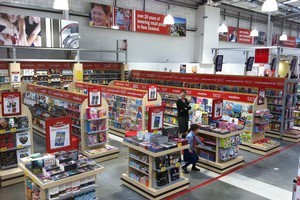 The Warehouse has downgraded profit guidance mainly because margins are being squeezed by discounting excess seasonal stock, its chief executive says.
New Zealand's biggest listed retailer yesterday reduced its forecast on adjusted full-year net profit to between $62 million and $66 million, down from $70 million. That would be a drop of up to 18 per cent on the $76 million adjusted net profit reported in its last full-year.
Reported net profit was expected to be around $80 million for the current full-year, in line with previous guidance. The downgrade came a day after Briscoe Group, which operates Briscoes and Rebel Sport stores, said its annual profit was expected to be 25 per cent higher than the previous year.
Warehouse chief executive Mark Powell said the margin pressure had resulted from seasonal clearance costs, mostly on apparel items, rather than promotional discounting.
"We set pretty impressive sales growth targets in apparel ... they haven't come to fruition and when you have [excess] seasonal apparel you have to clear it."
He said adverse weather this summer had not helped clothing sales. "It's been a tough season for apparel across the board, really."
Trading conditions had been challenging in the lead-up to Christmas, but improved in late December and into January.
Powell said he was optimistic about the outlook because the cause of the downgrade was clear and not the result of "underlying systemic issues". He said The Warehouse had now seen three consecutive quarters of same-store sales growth, compared with seven years of decline. Elements of the strategy aimed at returning The Warehouse to its former glory, such as sprucing up stores and increasing staff, were driving the growth.
Powell said there was strong growth in internet sales, and it expected to have its full range online by July. "Any retailer who ignores online is being unwise."
Buffy Gill of Goldman Sachs said the update was disappointing and highlighted the pressure of increased competition from online. Shares closed down 10c at $2.95.