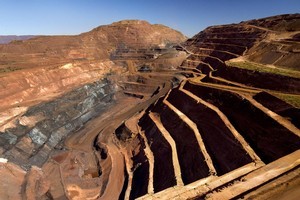 Rio Tinto has easily beaten its full-year iron ore production guidance but copper output was hampered by industrial action.
Chief executive Tom Albanese said production across the group had bounced back from severe weather in the first half.
The mining giant's global iron ore operations produced a record 65 million tonnes in the three months to December 31, bringing full year output to 245m t. The company had forecast iron ore output of 240m t for calendar 2011, while UBS analysts expected 242m t.
Full-year iron ore shipments totalled a record 239m t but were below actual production levels due to extreme weather in Western Australia's Pilbara region.
Rio Tinto said yesterday that the expansion of its Pilbara mines to 283m t by the end of 2013 remained on track.
Production at its copper projects fell sharply after a work stoppage and lower ore grades Escondida mine in Chile, while ore grades were variable at its Kennecott Utah operations in the US.
Rio Tinto reported a 7 per cent rise in full-year bauxite production and a 1 per cent lift in aluminium output, although alumina production was 1 per cent lower.
Shares in Rio Tinto were up 52c at $65.41 at 3.42pm AEST.
- AAP