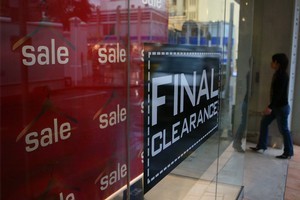 The number of job vacancies advertised on Trade Me rose 21 per cent in the December 2011 quarter, compared with the last quarter of 2010, but growth is slowing, according to an analysis of more than 38,000 jobs listed on the online trading platform.
The head of Trade Me Jobs, Pete Ashby, said although the "headline" growth was solid, there were signs that it was softening.
"The job market has clearly shifted down a gear when you compare this quarter's 21 per cent growth in listings with last quarter's 30 per cent," he said.
Expectations were that the employment market would improve after the Rugby World Cup and the November election but the reverse has happened, with advertised jobs up only seven per cent in December, he said.
Ashby said the signs of a slowdown aligned with the Westpac McDermott Miller's research out earlier this week, which found employee confidence in the job market had fallen to a two-year low in the December quarter.
"There's certainly anxiety in the public sector after the November election and broad uncertainty surrounding the ongoing turmoil in the European financial markets," he said.
Ashby said pay packets had not enjoyed much of a boost.
The pay offered by employers has been flat - up just 0.4 per cent on the same period last year.
"With competition amongst job hunters on the rise, it's starting to look like an employer's market again," he said.
Specialist government and council roles led the way in terms of growth in the December quarter, with listings in this sector up 47 per cent on a year ago.
Ashby said the driving force here was Auckland super city recruitment.
He said demand for highly skilled civil and structural engineers remained very strong, with listings up 39 per cent on the same period a year ago.
"We've also seen strong demand from employers seeking candidates with drafting experience, as well as sector-specific skills such as energy and the environment."
Elsewhere, accountants remain in hot demand, with listings up 36 per cent in the quarter and strong salary increases.
Trades and services (up 41 per cent), construction (up 33 per cent), and retail (up 22 per cent) also saw significant growth in listings compared to a year ago.
All regions of the South Island showed growth above the national average for the quarter. Canterbury and Southland were the standouts, each with 61 per cent growth in job listings compared to a year ago, followed by Otago with 40 per cent.
Canterbury's growth continued to be strongly connected to the rebuilding efforts in Christchurch, with the roles driving growth including builders, surveyors, project managers and engineers. The number of healthcare roles listed in Canterbury had also soared.
Ashby said he was cautiously optimistic about the New Zealand job market in 2012.
"While storm clouds over global markets remain a major concern, there are signs of improvement," he said. "We're hopeful this is simply a 'blip' in the ongoing recovery."
- APNZ