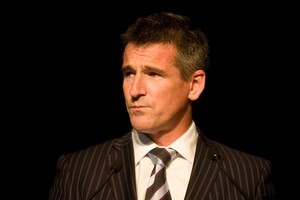 Control of the New Zealand headquarters of three big international firms could be about to change hands.
NZX-listed Goodman Property Trust sought state permission to buy the half share it does not already own in high-grade buildings leased to Vodafone, KPMG and Microsoft in Auckland's Viaduct Harbour,
The transaction involves assets valued at $155 million and Goodman Nominee (NZ) can now buy the remaining half of shares in Viaduct Corporate Centre from New Zealand's Balfour Trust and Eamon Trust.
But Goodman chief executive John Dakin said the deal was far from complete.
"We haven't actually bought it, we've just got OIO [Overseas Investment Office] clearance so if we wanted to, we could - provided commercial terms can be agreed to.
"We've owned half for about five years and it's been a very good joint venture. It's about co-investing with like-minded people," he said citing Goodman's separate alliance with Auckland businessman Sir Noel Robinson at the $1 billion Highbrook Business Park at East Tamaki.
Getting clearance from the OIO sometimes took months, Dakin said, but permission for the Viaduct deal was granted in just a couple of weeks.
The office noted how Goodman already owned half the shares in Viaduct, which owns and manages properties in the area.
The Viaduct Corporate Centre includes the distinctive transparent Vodafone headquarters on the corner of Fanshawe St and Halsey St, KPMG's offices fronting Viaduct Harbour Ave and Microsoft's offices at 22 Viaduct Harbour Ave.
All three buildings were developed by interests linked with successful developer/investors Tim Dromgool and Allan Fraser who also built the NZI Centre at 1 Fanshawe St.
Further down Fanshawe St, Goodman owns Air New Zealand's international headquarters.
Yesterday, Andy Eakin, Goodman (NZ) chief financial officer, said the business had refinanced a $52 million loan for its Viaduct Corporate Centre joint venture. The Westpac loan was to expire next month but is now extended to December 2016 on new terms.
Goodman, with a market capitalisation of $973 million, was yesterday trading at 99 cents.