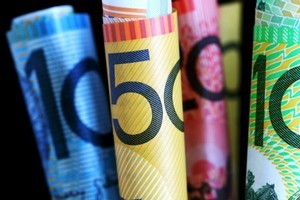 Australian shares broke a losing streak to add 1 per cent in the first day of trading this year after positive leads from European bourses.
Shares posted gains across the market - although volumes remained low - after better-than-expected German manufacturing data helped European markets spread more holiday cheer.
Positive manufacturing data out of China at the weekend also helped to boost risk appetite, helping resources and energy stocks. Burrell Stockbroking adviser Jaime Elgar said the market remained poised for a bounce for when leaders wrangle a concrete answer to the European crisis.
"I expect that in the first quarter or the first half we could see some new lows but we will end this year higher," he said.
"If something does happen [to resolve the debt crisis] I think the market has the propensity to see a bit of a bounce." At the close yesterday, the benchmark S&P/ASX200 index was up 44.6 points, or 1.1 per cent, at 4101.2, while the broader All Ordinaries index was up 44.2 points, also 1.1 per cent, at 4155.2.
Materials led the pack higher, adding 1.6 per cent after commodities prices benefited from an upswing in risk appetite overnight.
BHP Billiton rose 1.1 per cent to A$34.80 and Rio Tinto gained 1.8 per cent to A$61.40. Shares in Gloucester Coal rose 1.2 per cent to A$8.70 on the back of reports that it will wait until suitor Yanzhou Coal Mining Co completes inspecting its books before deciding whether to recommend the Chinese company's A$2 billion ($2.6 billion) takeover offer.
Industrials got a boost from Australian Industry Group (Ai Group) and Pricewaterhouse Coopers (PWC) data showing the Australian manufacturing sector moved into positive figures in December.
Onesteel ended up 1.4 per cent at A71c while Bluescope Steel added 1.2 per cent to A41c.
The big four banks also benefited from the upturn in sentiment, gaining between 0.7 and 1.7 per cent on the day.
Still, brokers noted volumes were thin and much of the "smart money" - slang for institutional investors - remained on the sidelines for now. On the exchange, 828 million shares were traded at a value of A$1.8 billion.
"It will not really be until mid-January at the earliest, as market players and money managers return from their festive season holidays, that we will be able to garner a real assessment of the market's mood," said IG Markets market analyst Cameron Peacock.
* Sharemarket tables resume in tomorrow's Business Herald.
- AAP