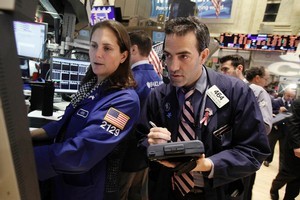 US stock markets have ended the pre-holiday week by booking solid gains, after five sessions that saw trade marked by a rare slowdown in bad news from Europe and further evidence of a US recovery.
The major indexes began the week in the red amid lingering concerns that the European Central Bank would not step in to stop the eurozone rot.
But they managed to eke out solid gains by Saturday's close.
While the Frankfurt-based central bank continued to shy away from backing indebted sovereigns, it did open lending windows for European banks, which helped ease panic.
"The signs are encouraging in Europe," said Hugh Johnson of Hugh Johnson Advisors.
The Dow Jones Industrial Average finished up 3.6 per cent to end the week at 12,294 points. The Nasdaq was up 2.5 per cent for the period and the S&P 500 added 3.7 per cent for the week.
Stocks were helped by suggestions on Wednesday of a nascent turnaround in the US housing industry, with new home starts up 9.3 per cent in November from a year earlier to the best level since April 2010, when since-expired government tax credits were driving sales. "The surge in sales ... suggests the sector is beginning to wake from its long sleep; expect sustained gains in sales and starts ahead," said Ian Shepherdson of High Frequency Economics.
On Friday, US stocks scored solid gains on encouraging jobs market data.
Weekly claims for US unemployment benefits fell to the lowest level since April 2008 last week, the Labour Department said.
Germany's Ifo business sentiment index defied analysts' expectations and rose to 107.2 points in December from 106.6 in November.
"There can be no talk of a crash as in 2008," said Ifo president Hans-Werner Sinn.
Despite the run-up to Hanukkah and Christmas there was plenty of corporate news to keep traders busy.
AT&T saw its share price rise 3.5 per cent after its planned mega-merger with T-Mobile was scrapped.
Oracle dragged the Nasdaq down on Wednesday, after reporting poor earnings, and ended the week down 10.8 per cent.
On Tuesday, General Motors plunged 5.5 per cent after GM's former subsidiary Saab filed for bankruptcy.
But the carmaker ended the week up 1.7 per cent.
On the Nasdaq, Akamai Technologies jumped 19.8 per cent on the news that it would spend US$268 million ($346 million) to buy Cotendo for its cloud computing technology.
- AAP