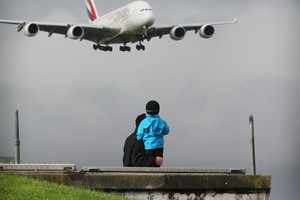 A second Airbus A380 super-jumbo aircraft flying into Auckland vindicates an investment to handle bigger aircraft, says Auckland Airport.
Emirates said it would operate the double-decker A380 on its daily Auckland-Melbourne-Dubai service in October 2012, replacing a Boeing 777-300ER flight.
The Dubai-based airline has operated the A380 on a daily Auckland-Sydney-Dubai route since February 2009.
Auckland Airport spokesman Richard Llewellyn said the NZX-listed airport had invested $11 million widening the runway to cope with larger aircraft such as the A380.
"The decision was taken at the time to make this investment because the new aircraft, in particular the A380, are exceedingly efficient aircraft that carry very good quantities of air freight," Llewellyn said.
"So we felt that if New Zealand didn't have a runway that was capable of accepting the A380s there was a very real risk of New Zealand becoming a bit of a branch office of Australia," he said.
"We feel very vindicated in that decision, particularly now that we have a second A380 on the service.
"It just means that generation of aircraft which is becoming increasingly prevalent in the aviation industry globally is not restricted from New Zealand."
There had been interest from other airlines in starting an A380 service to Auckland but nothing firm at this stage, Llewellyn said.
The airport in 2009 opened a new pier costing about $50 million to accommodate growth, which included the capability for handling larger aircraft.
Auckland Airport general manager for aeronautical commercial Glenn Wedlock said a second aircraft was good news for travellers.
"The new A380 service to Melbourne, alongside their existing A380 service to Sydney, increases existing seat capacity and will help stimulate demand and fuel growth in tourism and trade to New Zealand," Wedlock said.
The A380 had capacity for 489 passengers - 135 seats more than the Boeing aircraft Emirates was replacing on the route.
Emirates' regional manager for New Zealand Chris Lethbridge said the second daily A380 service reinforced the airline's commitment to the country.
"The A380 has been very popular for people flying just to Sydney," Lethbridge said.
"I think we will see the same success with the type for those people going to Melbourne and beyond."