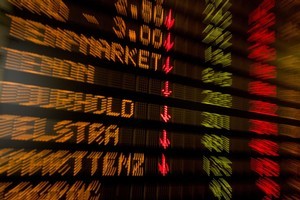 New Zealand shares fell, with volumes dwindling ahead of the Christmas break and generally weaker equity markets across Asia.
Kathmandu plunged after becoming the latest retailer to flag tough trading conditions.
The NZX-50 Index fell 15.84, or 0.5 per cent, to 3207.24. Within the index, 20 stocks fell, 21 rose and nine were unchanged. Turnover was $65.5 million. Kathmandu, which sells outdoor equipment and clothing, tumbled 25 per cent to $1.64 after saying first-half ebitda (earnings before interest, tax, depreciation and amortisation) would be below the previous year's $23.2 million as trading in the run-up to Christmas was below expectations.
Kathmandu had been a standout in a retail sector punished by consumers more concerned to repay debt than spend, with the Australian market especially difficult.
"Retailing in Australia is very, very difficult," said James Lee, head of institutional equities at First NZ Capital.
Generally "liquidity is drying up" ahead of the Christmas break.
Warehouse Group, the biggest retailer on the NZX-50, fell 2.9 per cent to $3.01 and fast-food chain Restaurant Brands dropped 1.5 per cent to $2.02.
The NZX-50 declined as the day progressed, with little impetus from government figures showing the economy accelerated by a faster-than-expected 0.8 per cent in the third quarter.
Economists said the headline figure masked a weaker picture, with growth in previous quarters revised lower and a record jump in inventories suggesting that sales are matching production. Fletcher Building, the biggest building products company on the exchange, slipped 0.8 per cent to $5.97 after the GDP report, which showed construction activity fell 2.2 per cent in the third quarter to its weakest quarterly level since June 2002.
Telecom dropped 2.2 per cent to $1.96.5 and Contact Energy declined 1.5 per cent to $5.12.
Turners & Growers rose 1.1 per cent to $1.80 after Scales Corp said it had acquired 5.95 per cent of the company and had an option to buy a further 4.03 per cent.
That could be enough to block Germany's BayWa Aktiengesellschaft from succeeding in its full takeover bid for the fruit and vegetable marketing company.
Auckland International Airport gained 1.2 per cent to $2.47 after releasing figures showing international passenger volumes rose 5 per cent to 582,148 in November from the same month last year, spurred in part by new direct routes to China.
Domestic passenger volumes climbed 2.3 per cent to 518,115.
PGG Wrightson, the rural services company, gained 5.3 per cent to 40c, the biggest percentage gain on the index.