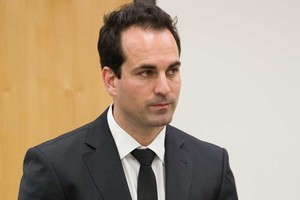 Former KiwiSaver fund manager Peter Huljich, who misled investors, finds out today whether he's won his bid for discharge without conviction.
This month Huljich and the company he directed, Huljich Wealth Management, appeared for a sentencing hearing in the Auckland District Court after pleading guilty to breaches of the Securities Act.
Judge Brooke Gibson is expected to release his judgment today.
The fund manager faced one charge and the company - now known as HWM NZ Holdings - faced two charges in a case brought by the Financial Markets Authority.
Huljich Wealth Management advertised itself as a market leader in terms of KiwiSaver performance and grew to be the largest privately owned KiwiSaver fund.
The charges relate to misrepresentations of the performance of the company's KiwiSaver scheme in offer documents between May 2008 and January 2010.
The documents contained graphs that compared the Huljich KiwiSaver Funds' performance with other competitor funds but failed to disclose the Huljich performance figures included related party payments made at the direction of Huljich.
FMA lawyer Christine Gordon SC told the court that without Huljich's top-ups the performances of the funds would have been materially worse.
She said in the year following "Huljich Wealth performed towards the bottom or at the bottom in terms of the funds in the KiwiSaver market". She said Huljich's actions had undermined the public's confidence in KiwiSaver and in investing generally.
The FMA argued for a starting point of a fine between $700,000 and $800,000 for each of the two defendants.
The maximum penalty is a fine of $300,000 plus $10,000 for every day the offence continued.
Despite the guilty pleas, the defendants' lawyer, Jack Hodder SC, said the offending was a "genuine mistake" and an "oversight".
"[There was] no dishonesty, recklessness or gross negligence. Investors' funds were handled properly and conscientiously at all times."
Hodder said Huljich's payments were not "top-ups" but "compensation" paid to HWN Unit Trusts, which the KiwiSaver funds invested in.
Huljich believed compensation of around $1.3 million was necessary because of a poor investment decision made on the trusts' behalf.
This compensation then benefited the scheme indirectly because of its investment in these unit trusts.
The scheme was only directly compensated when it withdrew investment from the unit trusts, the defence argued.
Huljich compensated the scheme for a second time to the order of $150,000 when its funds were not adequately diversified. No investors lost money because of the defendants' actions, Hodder said.
He said the scheme went on to experience good growth - gaining 16,082 members between April 2010 and March 2011.
The defence requested Huljich be discharged without conviction.
Huljich's KiwiSaver fund was sold to Fisher Funds this year for an undisclosed amount.