Did you experience the severe weather?
Send us your weather photos and video
Email here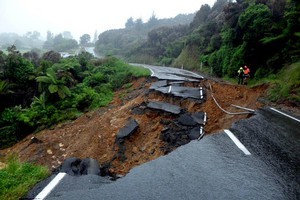 The insurance industry expects to pay out millions of dollars in claims after the flooding and foul weather that hit Nelson, but warns it is already seeing cases where property owners have no or inadequate insurance.
Insurance Council spokesman Brett Solvander said "several dozen" claims had already been lodged following flooding and slips this week which closed roads and forced people from their homes.
Assessors were already working on the ground in the region. Claims were being made mostly on houses and contents damaged by floodwaters and the slips.
"We think initially our costs will run into the millions," he said.
"One of the things that we are noticing is that a number of people are clearly under-insured and some are not insured at all. It's very unfortunate, and people in this situation have our sympathy.
"The situation that is occurring currently in the Nelson-Marlborough region - although it is abating somewhat - is a stark reminder to us that we really need to look at our insurance, and if we feel that we are under-insured to contact our insurer and get reassessed."
The Earthquake Commission (EQC) had 72 claims from the event as of 7am yesterday. The EQC handles claims for flood damage to land, or where landslips have damaged homes and properties - paying up to $100,000 plus GST on a dwelling.
Nelson mayor Aldo Miccio said there was not much his council could do to help in private circumstances.
Councils were already facing hefty bills for dealing with landslips - expected to be about $500,000 alone - and repairing damaged infrastructure such as roads.
While there was sunshine in Nelson yesterday afternoon, there was a prediction of more rain over the weekend, and the saturated soils meant the risk of further landslips.
More than 300 damaged homes will need to be assessed.
"We are trying to get as many people back into their homes before Christmas as we can," Mr Miccio said.
"On the bright side, no-one has been injured that we know of."
Metservice forecaster Oliver Druce said South Island weather was looking to clear today.