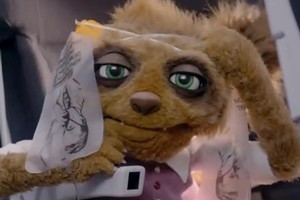 It's official - Air New Zealand's lovable rogue mascot Rico was killed by Richard Simmons.
The over-excited fitness guru admits murdering the puppet, who has been used in several promotional videos by the local carrier over the past year, because he could do more jumping jacks than him.
Rico was reportedly killed while hosting an A-list party in a Los Angeles mansion, and other suspects included Snoop Dogg, Holly Madison, Ma'a Nonu, Guliana Rancic and Paul Henry.
More than 4.5 million people have watched Rico's YouTube videos over the past year, helping Air New Zealand win the 2011 Airline Business marketing strategy award.
Check out Simmons' confession:
- Herald online