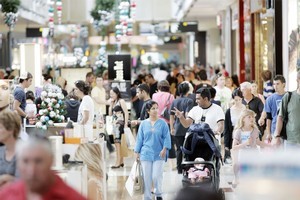 New Zealand consumers are feeling the heat of global economic conditions, with optimism falling for a fourth month in the lead-up to the important Christmas shopping period.
The ANZ-Roy Morgan Consumer Confidence measure fell 0.6 points to 108.4 in December, and is 8 points below the historical average. The Current Conditions index rose 1.9 points to 102.5, while the Future Conditions index fell 2.4 points to 112.2.
"What is not so easily dismissed is the fact that this is the fourth consecutive monthly ebb lower in consumer confidence," said Khoon Goh, head of market economics and strategy at ANZ New Zealand. "The cautious consumer mood overall suggests that we are unlikely to get a bid end of year spend-up."
The release follows government data which today showed retail spending on credit and debit cards fell 0.5 per cent to $4.08 billion last month.
Goh said while it was easy to blame the global volatility, "there are also local specifics at play that continue to weigh on sentiment."
"A decade of spending excess has weakened households' balance sheets," Goh said. "Restoration requires saving more and spending less."
Of the 1,010 respondents, and net 15 per cent said now was a good time to buy a big ticket item, down from a net 19 per cent in November.
A net 10 per cent thought they were worse off now than a year ago, compared to a net 18 per cent a month ago, and a net 23 per cent still though they will be better off in a year's time.
A net 6 per cent of respondents think New Zealand's economy will deteriorate in the next 12 months, down from a net 7 per cent in November, though a net 20 per cent expect better times over the next five years, compared to a net 28 per cent a month ago.