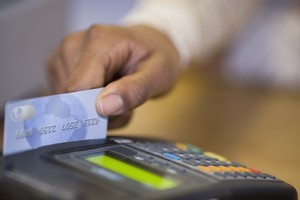 New Zealanders wound back spending on credit and debit cards in November as the hangover from the Rugby World Cup spending binge set in a month before the traditionally busy Christmas holiday.
The value of electronic card transactions at retailers fell 0.5 per cent to a seasonally adjusted $4.08 billion in November from the previous month, according to Statistics New Zealand, led by a 2.2 per cent decline in hospitality spending to $605 million and a 4.9 per cent drop in apparel purchases to $276 million. The value of total transactions fell 0.2 per cent to $5.41 billion, and dropped 1.3 per cent in core retail industries to $3.33 billion.
"The decline in card spending in November suggest the effects of the Rugby World Cup are short-lived, with declines in card spending in the apparel and hospitality sectors more than reversing the boost in the previous month," said Christina Leung, economist at ASB Institutional. "Today's result suggests the boost to spending from the Rugby World Cup was brief, with many of the large increases in the categories seen in the previous month reversing out in November."
The release comes three days after Paymark data showed a 3.2 per cent increase in spending on EFTPOS transactions in November. The payment systems operator, which accounts for about three-quarters of all transactions, said Christmas was on track to be an improvement on last year.
Unadjusted spending on electronic cards was up 5.8 per cent to $5.54 billion compared to November 2010. The total number of transactions rose 4.5 per cent to 104 million from a year ago.
The value of transactions was supported by an increase in spending on fuel, which rose 3.9 per cent to a seasonally adjusted $641 million.