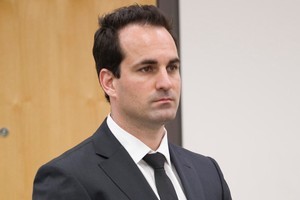 A District Court judge has reserved his decision in the sentencing of fund manager Peter Huljich and Huljich Wealth Management for breaches of the Securities Act.
Judge Gibson is expected to give his decision later this month.
Huljich faced one charge under section 59 of the Securities Act, and his company two charges - one under section 59 and another under section 58.
Huljich and the company plead guilty to the charges in September.
The case was brought by the new Financial Markets Authority, which replaced the Securities Commission.
The charges relate to claims investors were misled by misrepresentations of the performance of the company's KiwiSaver scheme in offer documents.

The offer documents contained graphs that compared the Huljich KiwiSaver Funds' performance to other competitor funds but failed to disclose the Huljich performance figures included related party payments made at the direction of Huljich.
FMA lawyer Christine Gordon alleged in court earlier today that without the top-ups the performances of the funds would have been materially worse.
She said in the years after the top-ups were paid "Huljich Wealth performed towards the bottom or at the bottom in terms of the funds in the KiwiSaver market."
She also alleged that Huljich's actions had undermined the public's confidence in Kiwisaver and in investing generally.
She alleged that if Huljich did not know that the company's investment statements were misleading that he should have given his position as a director.
Lawyers for the defence said the offending was a "genuine mistake" and pointed out that investors lost no money because of the breaches.
The FMA argued for a starting point in sentencing of a fine between $700,000 and $800,000 for each of the accused.
The defence said a starting point of a penalty of $100,000 to $200,000 was appropriate for Huljich Wealth Management and requested that Huljich be discharged without conviction.
The maximum penalty they can face is a fine of $300,000 plus $10,000 for every day the offence continued. The offending occurred over a period of 21 months.
Huljich Wealth advertised itself as a market leader in terms of KiwiSaver performance and investment returns and it grew to be the largest privately owned KiwiSaver fund.
More than 74,000 people joined the scheme during the period when the misleading prospectuses were distributed.
This story has been changed from an earlier version which stated that during its operation 74,000 people entered the scheme.