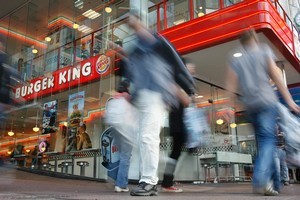 One of the world's largest private equity firms paid almost $108 million to make its first foray into the New Zealand market by buying the franchise to 75 Burger King restaurants.
The Overseas Investment Office has just revealed the price international fund Blackstone Group paid for the business and the rights to expand the national chain.
In granting consent in the latest round of decisions, the OIO said it had jurisdiction because of the significance of the business asset and the fact that it was worth more than $100 million.
Last month, the Americans registered a company with the name of Tango New Zealand to own the business. Then Tango, owned by Blackstone Group of the United States, sought clearance to buy out existing shareholders of Anchorage New Zealand Holdings, which owned Burger King. The price paid was$107,948,817.
"The applicant is acquiring 100 per cent of the shares of Anchorage New Zealand which owns and operates the Burger King franchise business in New Zealand," the OIO said.
"Blackstone believes that with its investment experience in the consumer and beverage industry it is well placed to help grow and develop the Burger King business and considers the acquisition is aligned with its regional strategy and industry focus globally."
Andrew Petersen of Bell Gully represented Blackstone.
Britain's Babcock International was cleared to buy 2.1ha of land at Calliope Rd and Queens Parade on the North Shore from Fitzroy Yachts, owned by New Zealander Peter White-Robinson, in a deal involving sensitive land around the Devonport naval base in Auckland.
Last year, Babcock bought 70 per cent of the shares in Babcock Fitzroy, which had a direct leasehold interest in land around the base.
Babcock then sought permission to buy the remaining 30 per cent to simplify ownership in a deal where the price was suppressed.
Australian and American-owned bedmaker Sealy can buy 1.1ha of land at 24-30 Lake Rd at Northcote in Auckland for $10,291,000.
The Friedberg family of Canada's Whitford Forest Holdings got consent to buy assets from Riverside Forestry for $1.8 million. Whitford owned four-fifths of the forest in the greater Auckland region and sought to buy out the remaining fifth.
The forest is 1624ha and is between Maraetai and Whitford. It has indigenous vegetation and fauna, historic heritage and walking access so the OIOhad jurisdiction on that deal.
Asahi Group's $249 million move on Flavoured Beverages Group and Canadian Helicopters' $160 million purchase of Helicopters (NZ) were the largest foreign deals completed this year, the OIO says.
Corisol New Zealand's move on 18,251ha of land around Canterbury, Te Waihau Plantation's proposal to buy 17,289ha in the central North Island and Matariki Forests' proposal on 4795ha in Canterbury were this year's three largest net freehold land purchases, the OIO said.
Others were Soho Property's purchase of the Crown Pastoral Lease of Coronet Peak Station which involves 22,211ha.