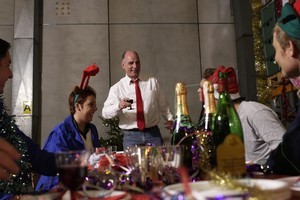 Have fun at work events, but don't completely drop your guard. Photo / Thinkstock
Frosty the Snowman isn't the only character coming your way this holiday season. In fact, the annual arrival of tinsel, mistletoe and jingle bells can transform a normally rational and well-mannered employee into another person entirely.
Here are four memorable individuals you might soon encounter, along with tips for making sure you don't cross the line from festive to frustrating:
The Not-So-Secret Shopper
This colleague helps the overall economy but offers nothing to the company's bottom line. After taking excessively long lunch breaks to bag deals at the shopping centre, the brazen bargain-hunter spends the remainder of the day shopping online - rudely leaving others to pick up the slack.
Tip: Don't let your gift list get in the way of your job duties. Even if your company has a liberal computer-use policy, err on the side of caution and save the shopping for out-of-work hours.
The Human Holiday Display
This person pays no attention to the company dress code or office decor during the month of December. Typically wearing reindeer antlers or a snowman sweater, he or she transforms their desk into a blinding sea of blinking lights and tinsel. This over-the-top spectacle leaves fellow team members squinting their eyes and scratching their heads.
Tip: It's fun to celebrate the festive season, but adhere to organisational and departmental norms when decorating your workspace and ... well, yourself. Remember: everything in moderation.
The Party Animal
Regardless of how casual the setting might be, the annual office party is still a work function. As such, it's not the best venue for letting loose.
This fact eludes the Party Animal. Instead of viewing the get-together as an opportunity to strengthen or forge internal connections, this merrymaker overindulges in festive cheer and creates all kinds of awkwardness.
Inevitably, the entire company will be whispering about the Party Animal's regrettable antics by the next morning.
Tip: Allow yourself to have some fun at work events, but don't completely let down your guard. You don't need to be the life of the party to make an impression. Drink alcohol moderately and don't pressure others who are opting to abstain.
The Grinch
In sharp contrast to the workplace's most cheerful holiday enthusiasts, this frosty grump is known for having a bad attitude. He maintains a Scrooge-like demeanour to make it clear he's not feeling festive - and that you shouldn't either. Full of cynicism and sarcasm, he finds a way to criticise everything. The Grinch remains unaware that the constant griping and gossiping can be incredibly grating.
Tip: Some people don't get into the festive spirit and that's OK. What's not is trying to spread a "Bah humbug!" attitude to everyone else. Be mindful that interpersonal skills are critical to career advancement.
It's important to remember that not everyone at your business celebrates the same holidays and not everyone celebrates with the same level of enthusiasm. The most important thing is to understand and respect those differences.
Megan Alexander is general manager of Robert Half NZ