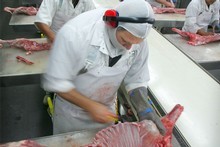 In a second blow to South Otago this week, up to 10 jobs could go at the Finegand freezing works near Balclutha.
A spokesperson for Silver Fern Farms said the company was in talks with affected staff at its Finegand freezing works over a proposal to reduce the staffing in the maintenance and dry store areas. The jobs were predominantly full-year positions.
The Finegand plant employees 900 staff.
Silver Fern Farms could not confirm the number of potential redundancies or redeployments until the outcome of the consultation was known but said it would be no more than 10 people. An announcement is expected to be made next Wednesday.
Yesterday eight employees spent their last day at the QualitYarns NZ Ltd's woollen mill in Milton, with 20 staff to be re-employed on Monday, working on a casual basis to satisfy immediate needs of some customers. All 28 employees received redundancies notices last week.
The Silver Fern Farms spokesperson said proposals were aimed at better aligning staffing with the needs of the plant given the livestock numbers processed at the site _ with a significant reduction in the number of lambs put through its Finegand plant over the last decade.
Figures released this week show New Zealand is facing the second smallest lamb crop in 55 years with the number of prime lambs available for export this season was estimated to be 20.6 million.
While that was 1.3 million head more than last season, 2010-11 saw a 49-year low in the number of lambs processed, with this season shaping up to be the second lowest in 49 years.
Carcass weights were predicted to average 18kg, down 1.4 per cent compared with last season's record high of 18.23kg due to more lambs around to finish.
Finegand operates three chains, down from a high of six chains despite the reduction in lambs partially off-set by the significant increase in beef.
The freezing works was still advertising positions for boners, leggers, slaughtermen, and general knife hands due to an increase in processing done on site.
-OTAGO DAILY TIMES
By Helena de Reus