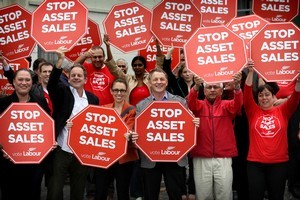 Government claims that shares in state-owned power companies will remain in New Zealand hands after its asset sales programme were made without official advice it emerged yesterday.
In an election tussle where state asset sales have been a major issue, the Government is facing the prospect that reports on the plan, which it has so far withheld, will be released two days before New Zealanders head to the polling booths.
National has sought to allay voters' concerns about its plans to raise $5 billion to $7 billion through the partial sale of four energy companies and Air NZ by saying 85 to 95 per cent of the shares would go to New Zealand investors and no single shareholder will be able to own more than 10 per cent.
But One News last night said it had sought the advice the Government based its asset sales plan on from ministers under the Official Information Act.
It had been denied that information and then went to the Ombudsman to appeal the Government's decision.
While the Ombudsman chose not to have the information released, it revealed the Government's assurances were based largely on the views of ministerial employees and on informal discussions with finance industry figures.
One News reported that Treasury admitted it had not provided Minister of Finance Bill English with any advice about the workability of a 10 per cent shareholding cap.
"It looks like National has deceived New Zealand, tried to cover it up and been caught out," Labour leader Phil Goff said.
One News also reported a significant amount of information about the asset sales plan was being withheld from the public, including five official reports.
However, the Ombudsman upheld the Government's decision not to release the documents saying disclosing the information could affect the returns gained from the sales, in turn having a significant economic impact.
Labour campaign spokesman Grant Robertson said Mr Key and other senior ministers had been caught out "attempting to hoodwink the public".
Yesterday's report on the advice backing National's assurances over the asset sales programme "weakens an already flimsy case" for the plan, he said.