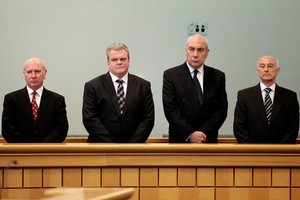 Concerns over a $90 million transaction between Bridgecorp and a group it allegedly had covert ties with were raised with one of the failed finance firm's directors before offer documents were issued to investors, a court heard today.
The trial of three former Bridgecorp directors - Rod Petricevic, Rob Roest and Peter Steigrad - continued today in the High Court at Auckland.
Bridgecorp was a finance company offering property loans and folded in 2007, owing 14,500 investors $459 million.
The trio on trial face 10 Securities Act charges brought by the Financial Markets Authority (FMA) for allegedly making untrue statements in the investment statements, registered prospectuses and extension certificates of Bridgecorp and Bridgecorp Investments.
The three directors deny that charges, while two fellow directors Gary Urwin and Bruce Davidson have pleaded guilty to them.
Bridgecorp's former internal audit and risk manager, Indra Kumar, continued to be questioned as a Crown witness today over the "Barcroft transaction".
The Barcroft transaction constituted Bridgecorp's largest exposure to a single borrower.
It involved the sale of loans from Bridgecorp to Barcroft Holdings Ltd which was finalised on June 30, 2006.
The original amount Barcroft owed Bridgecorp was $76.8 million. This had grown to $90 million by November 30, 2006 and was more than $100 million before the company collapsed.
Barcroft is alleged to have had covert ties with Bridgecorp director Gary Urwin through trusts, and through parent company BHL, a company which Bridgecorp exercised considerable control over.
Despite the alleged link, Barcroft was listed as an unrelated company in the Bridgecorp prospectus distributed to investors after December 20, 2006.
Kumar said today he had several concerns with Barcroft's apparent related-party status at the time and had included these in his monthly audit reports.
He claimed to have discussed these reports with the company's chief financial officer, Rob Roest.
When called in early December to sign off on statements that would be included in the prospectus, he went directly to Roest and raised the issue again.
However, he was told Bridgecorp and Barcroft were not related parties and the pair "left it at that", he said.
Although Kumar signed off statements in the December prospectus relating to Barcroft, he refused to do so again in March.
Kumar claimed he only signed off in December because he believed the directors had access to loan documents he had not seen.