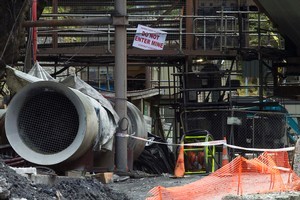 A mine safety advisor has said that laying charges over the Pike River mine disaster is pointless and will do nothing to solve issues in the New Zealand mining industry.
The Department of Labour has laid 25 charges against 3 parties alleging health and safety failures at the mine, leading to explosions which killed 29 miners in November last year.
The department has suppressed the names of the parties and the specific charges. Each charge carries a maximum penalty of $250,000.
Mine safety advisor Davis Feickert told Radio New Zealand this morning that the solution to safer mining lies in changing the self-regulated environment under which the Department of Labour operates.
"That is what has failed the country, it has failed the miners and it has failed the families and that is what we have to change."
"There is no point in just pursuing individuals... they were very very poorly supervised by the regulating authorities."
EPMU Assistant National Secretary Ged O'Connell told Breakfast this morning that the charges are unlikely to reveal who is to blame for the tragedy, and may even delay further investigations.
There are two levels of fines for these kinds of offences, said O'Connell, and major offences carry a maximum penalty of $500,000.
"So we don't think it's going to be a circuit-breaker in terms of the who-dunnit category."
A royal commission of inquiry will restart on Monday, but O'Donnell said the findings of the commission may be delayed until the outcome of these charges is known - which could take up to six months if they are contested.
This is also likely to delay legislation on mine safety, as the Government will wait to be advised by the commission before passing any new laws.
Meanwhile, families of the Pike River miners are pushing for the charged parties to be named.
Carol Rose, spokesperson for the miners' families, told Radio New Zealand they want more information.
"Until we know what the charges are and who the parties are it's really hard to know what to think."
Dean Dunbar, whose 17-year-old son Joseph died in the Pike River disaster, said the charges were "just another pain" to deal with.
"No matter what amount of money these people [might face in fines], it doesn't bring my son back,"
Several investigations are under way, and more charges could be laid at a later date. All investigations have included the company running the mine, Pike River Coal, the mine manager, Doug White, and the former chief executive Peter Whittall.
- Herald Online Staff