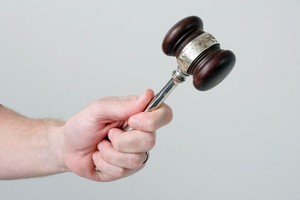 The bailing of Gary Urwin to an overseas address is "most unusual", says a law expert.
University of Auckland law professor Warren Brookbanks said people were usually bailed to an address in the jurisdiction where they had pleaded guilty or had been found guilty.
He said people on bail were usually required to surrender their passport to ensure that they would appear at future court hearings.
"To bail someone to an address in another country is most unusual. I would have thought the police would have a strong cause to believe that there is no risk of absconding ...
"But if he chooses not to come home, the only way to get him would be to institute extradition proceedings."
Professor Brookbanks said there had to be a clear understanding that Urwin would come back.
Urwin will be bailed to his son's home in Sydney.
Justice Geoffrey Venning said Urwin would be given 48 hours' notice of when he had to return to take part in the preparation of pre-sentencing reports.
On his return, he will have to tell the court his address in New Zealand.
Justice Venning also told Urwin he must not travel further than Australia and must live only at his son's address in North Sydney.
- APNZ