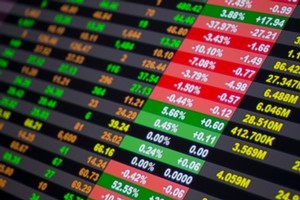 New Zealand shares rose yesterday, pushing the NZX 50 Index to a two-week high, with gold miner OceanaGold and carpet-maker Cavalier leading the advance, while Fletcher Building fell.
The NZX 50 rose 6.96, or 0.2 per cent, to 3332.56. Within the index, 67 stocks rose and 43 fell. Investors are focused on the annual meeting season, with a number of profit downgrades stoking concern corporate New Zealand is still doing it tough.
OceanaGold, which operates the Macraes gold field, rose 5.9 per cent to $3.25, the highest in almost two weeks, though on light volume of just 12,500 shares.
Cavalier, which posted a 20 per cent slump in first-quarter sales on October 12, gained 5.1 per cent to $2.90, advancing from a 13-month low plumbed last week.
Fletcher, the nation's biggest construction company, fell 0.9 per cent to $6.65.
Government figures yesterday showed building consents, excluding apartments, tumbled 14 per cent in September, the first decline in five months.
TrustPower, the utility controlled by Infratil, rose 1.1 per cent to $7.25 after posting a 15 per cent increase in first-half profit on revenue from its Snowtown wind farm, increased production and higher wholesale electricity prices. Sales rose 6 per cent to $426.6 million.
"There was a reasonable TrustPower number out today, that helped sentiment," said Craig Brown, senior investment analyst at One Path New Zealand.
"The overriding tone is for more downgrades than upgrades, and that reflects the uncertain environment out there," Brown said. Telecom, the nation's biggest phone company, rose 0.2 per cent to $2.53.5 Fitch Ratings yesterday lowered its long-term foreign currency credit rating by one notch to BBB+, citing "additional competitive pressures" once the company splits into its retail and wholesale arms.
Property for Industry, the industrial property investor, rose 1.7 per cent to $1.17 after posting a 15 per cent decline in distributable earnings to $11.7 million in the nine months ended September 30.
Net profit of $9 million turned from a $25.7 million loss a year earlier when it took a one-off hit on the tax treatment of its building values.
NZX fell 0.4 per cent to $2.34 after the stock exchange operator reported a 14 per cent gain in third-quarter profit, driven by sales of agricultural data, listings and securities clearing services.
- BusinessDesk